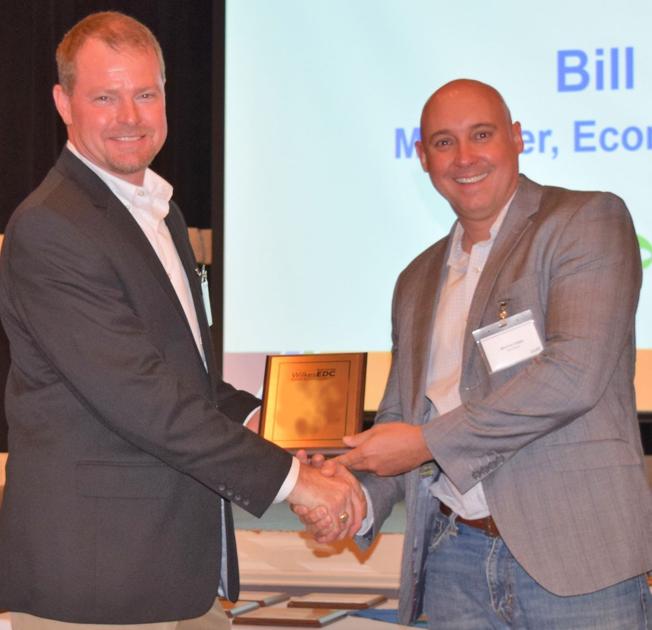 Plans for The Block, a family fun center opening soon in downtown North Wilkesboro, were shared recently.
Owners Mick and Aynsley Zulpo are developing The Block in a building near the intersection of Sixth and Main streets that originally was built as a Roses department store.
It was later a retail business complex called Melody Square and became the Square when purchased by local businessman Scott Nafe.
Mick Zulpo spoke about these plans during the Aug. 20 annual meeting of the Wilkes Economic Development Corp. at the Stone Center in North Wilkesboro.
The Zulpos recently bought the building from Nafe and Zulpo said they've been working on the plans for about six months.
He said they plan to install a trampoline park with various trampolines, a 2,000-square-foot "ninja warrior" course, 1,000-square-foot play area for younger children, 10,000-square-foot roller skating rink and three birthday party rooms.
He said the old Roses cafeteria will be reopened and there are plans for a miniature golf course with glow in the dark features later in the 9,000-square-foot basement.
The Block was chosen as the name through an online contest in which potential names were submitted. Zulpo said the EDC staff assisted with the contest.
He said over 300 potential names were submitted, along with numerous comments from people in Wilkes and adjoining counties about the need for the family entertainment center.
Zulpo said his goal is for other businesses in Wilkes to benefit from crowds he hopes The Block will draw.
He is a native of Australia and his wife is originally from Cary.
Zulpo said that during a 10-year period the couple lived in Fuquay-Varina, they purchased a holiday house in the Buck Mountain subdivision of western Wilkes.
When the pandemic hit, Buck Mountain house became a long-term rather than weekend residence for the couple and their two teenage sons, with the sons remaining in the Wake County Schools as virtual students.
Ainsley is employed in the automotive industry but is able to work remotely and Mick has a job teaching foreign governments and private industry how to take samples to meet air quality standards.
Mick said that because of the beauty of the area and after getting to know the Wilkesboros, they decided to move here and sold their home in Fuquay-Varina in February.
He said that while looking around for something for their sons to do, they realized there are very few options in the Wilkes area for family entertainment they were accustomed to in more urban areas.
"Sure there is skiing up in Boone and we took advantage of that and other outdoor activities," he added.
This desire for something more led to plans for The Block. Zulpo said the time frame for opening the facility hasn't been firmly set.